Top 5 Jazz Standards for Beginners
Learning jazz can be a daunting task. With literally hundreds of iconic recordings of hundreds of different jazz standards it can often feel overwhelming to decide where to begin. But have no fear! We've compiled a short list of jazz standards that are commonly performed by jazz musicians and great for jazz beginners:
1. "Autumn Leaves"
Originally composed in French by Joseph Kosma in 1945, "Autumn Leaves" is one of the most commonly played jazz standards and features a chord progression perfect for learning to play in both major and minor keys. Although there are hundreds of recordings of "Autumn Leaves," one of the most popular and iconic jazz recordings of the tune is that of Julian "Cannonball" Adderly and Miles Davis from the album Somethin' Else. Check it out!
2. "Bye Bye Blackbird"
This tune is great for any budding jazz musician due to its incredibly singable melody and its chord progression which for the most part, stays comfortably in one key! A jam session favorite, "Bye Bye Blackbird" has been performed live and in recording sessions for decades. Though it was originally written in 1926 by Ray Henderson, one of the more notable jazz recordings of the tune is by Miles Davis on the album 'Round About Midnight:
3. "C Jam Blues"
One of the great American composers is of course, Duke Ellington. The Ellington's partnership with the great composer Billy Strayhorn led to a vast and beautiful body of work, which continues to be studied by musicians today. The beauty of "C Jam Blues" lies in its simplicity: a four-bar melody repeated three times, made up of only two notes! This tune is also the perfect vehicle for learning the twelve-bar blues form, one of the most common chord progressions in American music. Start with this recording of the Duke himself performing "C Jam Blues." Once you hear it, you'll find this melody popping into your head all the time!
4. "Blue Bossa"
This one comes from the influential saxophonist and composer Joe Henderson. An example of a jazz bossa nova which combines elements of American jazz music with Brazilian music, "Blue Bossa" is perfect for beginning jazz musicians to learn how to move between keys. Don't let the catchy melody and laid-back groove fool you, these chord changes can be a bit tricky at first!
5. "Take the 'A' Train"
Another one from Billy Strayhorn and Duke Ellington! In addition to being a smash hit in the 1940s, "Take the 'A' Train" stands the test of time as one of the great jazz standards. Like the other songs on this list, this tune has been recorded hundreds of times but it's best to start with the original 1941 recording from Duke Ellington:
While this only just touches the surface of the huge number of songs that jazz musicians perform, this list is a great place to start for students interested in learning jazz. Begin by singing along with the melodies of the songs and trying to put them on your instrument by ear. Then, get yourself one of the many "Real Books" on the market which will provide clearly-notated versions of the melodies and chord progressions. With some practice and guidance from a teacher, you'll be ready to start improvising over these tunes in no time!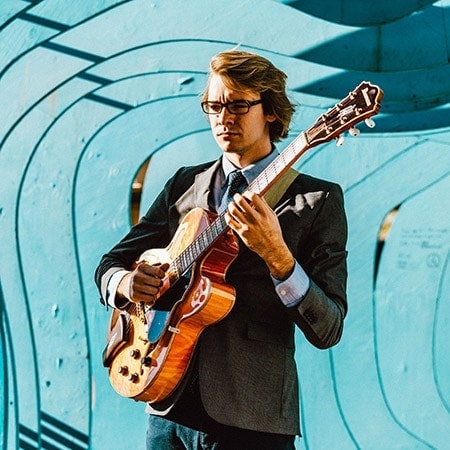 Reid R. is one of Music To Your Home's talented guitar teachers. Contact us today to schedule a lesson with him right in your home.
Cover image courtesy of araelf at FreeDigitalPhotos.net