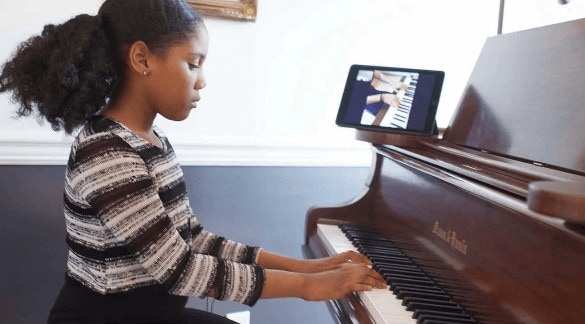 Personalized one-on-one online piano lessons with our amazing teachers
Music To Your Home provides high-quality online piano lessons with our amazing teachers using video conferencing systems like Skype or FaceTime. All you need is a laptop or tablet/iPad, a webcam, and a reliable internet connection, and your piano.
Our Online Piano Teachers
friendly teachers dedicated to helping you learn
Our teachers have performed around the world with groups like the New York Philharmonic, the New York City Ballet, and countless Broadway plays. Many of our teachers are chart-topping pop artists that have been heard on TV, radio, film, and have recorded their own albums.
"Really great experience with them, Bronwyn is seriously the highlight of the week for my kiddos. She makes learning piano fun for a 5 and 7 year old. We feel very lucky to have found this service!"
online piano lessons pricing
classes that fit any schedule
Book your Online Piano lesson now
Online Piano Lessons: areas of study
How do Online Lessons Work?
Music To Your Home offers private lessons ranging from 30 minutes to an hour and a half in length. You will choose the type of program you prefer, pick your teacher, and pay for your lesson online. When you play along with your instructor, they can observe your progress and offer personal feedback on ways you can improve. Your teacher will share resources like sheet music, notes, and other tools you will need during the program.
The live teacher will provide convenient scheduling, step-by-step instructions, and we always respond promptly to our client's questions.
From the start of your first lesson plan, you'll quickly see how online video lessons make piano learning simple & easy. All new piano players learn music theory and various piano chords to play memorable songs for beginners.
Whether you're an adult studentor looking to start lessons for your kids, contact us today for more information on how to get started.
Why Take Piano Lessons
with Music To Your Home?
Many people aspire to play the traditional piano but they are held back by various concerns. They are concerned private lessons will be too expensive and time-consuming. Plus, how do you really know who is qualified to teach you?
Music to Your Home has a unique approach in sharing the knowledge and experience of our incredible piano teachers with students around the world. With our online piano lessons, you will be taught by the very best teachers from the comfort of your own home. You can select your teacher, schedule your lesson, and pay for it online.
Taking classical piano lessons online offers a whole new range of benefits.
Here are some of the biggest advantages of learning to play piano online:
Music To Your Home provides high-quality online music lessons with our amazing teachers using video conferencing systems like Skype or FaceTime.
latest piano posts
tips, tutorials, playthrough's and more
Playing the piano is a skill that takes years of practice, dedication, and desire. Our students study every type of music during